Here We Are begins previews... and extends!
The strictly limited engagement of Stephen Sondheim's last show, written with David Ives, has been extended at The Shed in NYC until 21 January 2024. Tickets on sale now at theshed.org.   Book by David Ives, music and lyrics by Stephen Sondheim, directed by Joe Mantello. Featuring Francois Battiste, Tracie Bennett, Bobby Cannavale, Micaela Diamond, Amber Gray, Jin Ha, Rachel Bay Jones, Denis O'Hare, Steven Pasquale, David Hyde Pierce, and Jeremy Shamos. Photograph Courtesy Emilio Madrid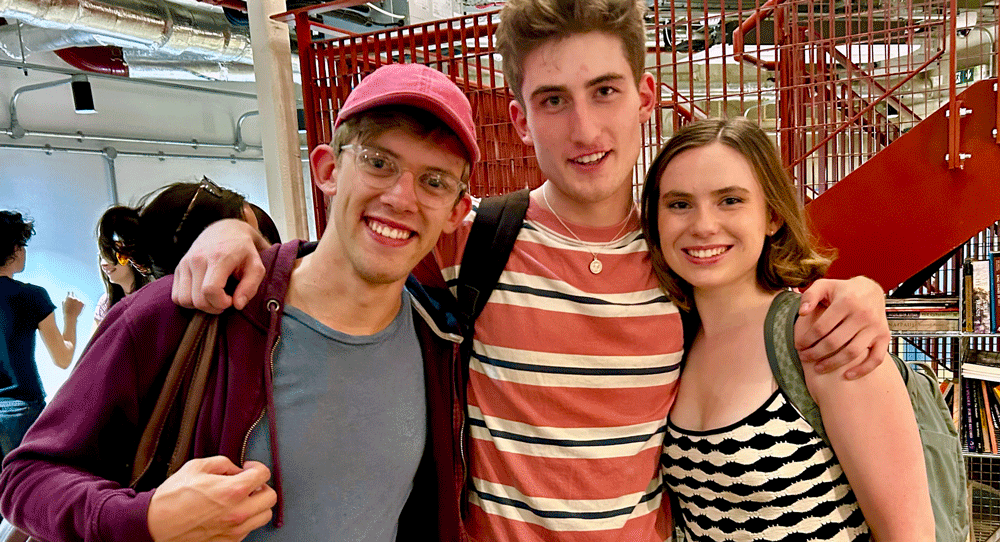 NYTM's Merrily We Roll Along at Southwark
The Society was thrilled to catch up with the stars of NYMT's production of Merrily We Roll Along on Friday night: (left to right) Thomas Oxley (Charley), Toby Owers (Franklin) and Madeleine Morgan (Mary). Merrily is playing at the Southwark Playhouse Elephant until Saturday 26th August. Get booking!
Sondheim at the Gatehouse
A HUGE thank you to Alex Young and her talented friends for a lovely evening of cabaret at Upstairs at the Gatehouse. (l-r) Ryan MacKenzie, Ellie Nunn, Izi Maxwell, Alastair Brookshaw, Tom Watson, Jade Oswald, Jordan Broatch, Alex Young, Eamonn O'Dwyer, Desmonda Cathabel, Joe Bunker & Mackenzie Larsen
Here We Are begins previews... and extends!
The strictly limited engagement of Stephen Sondheim's last show, written with David Ives, has been extended at The Shed in NYC until 21 January 2024. Tickets on sale now at theshed.org.   Book by David Ives, music and lyrics by Stephen Sondheim, directed by Joe Mantello. Featuring Francois Battiste, Tracie Bennett, Bobby Cannavale, Micaela Diamond, Amber Gray, Jin Ha, Rachel Bay Jones, Denis O'Hare, Steven Pasquale, David Hyde Pierce, and Jeremy Shamos. Photograph Courtesy Emilio Madrid